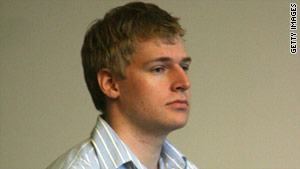 (CNN)
-- A onetime medical student who was facing charges including first-degree murder in a killing tied to the Craigslist website died Sunday of an apparent suicide, police said.
Philip Markoff was found unresponsive in his Boston, Massachusetts, jail cell at 10:17 a.m. Sunday and pronounced dead by medics, according to officials.
The cause of death is under investigation, Boston Police Commissioner Edward Davis and Suffolk County District Attorney Daniel F. Conley said in a statement.
"Markoff was alone in his cell and all evidence collected thus far indicates that he took his own life," the statement said. "Nonetheless, as with all such cases, a comprehensive investigation will be conducted to determine the facts and circumstances surrounding his death".
An autopsy is scheduled to be conducted Monday, according to Jake Wark, a spokesman for Conley.
Markoff, 24, was charged with the April 14, 2009, fatal shooting and attempted robbery of Julissa Brisman, 25, at Boston's Copley Marriott Hotel. Police said that Brisman, a model, advertised as a masseuse on Craiglist, a popular online classifieds service, and said Markoff may have met her through the site.
Markoff was also charged with the April 10, 2009, robbery of Trisha Leffler at a Westin Hotel in Boston. Police reports said Leffler was robbed of $800 in cash and $250 in American Express gift cards and was held at gunpoint and bound.
At his arraignment in June 2009, Markoff pleaded not guilty to the Massachusetts charges.
He also was facing charges in an April 16, 2009, incident at a Holiday Inn Express in Warwick, Rhode Island. In that incident, police said Markoff tied up and demanded money from a 26-year-old dancer who had posted a Craigslist advertisement. The robbery was interrupted when the woman's husband entered the room, and the suspect fled after pointing his gun at the husband, according to Warwick Police Chief Col. Stephen McCartney.
CNN