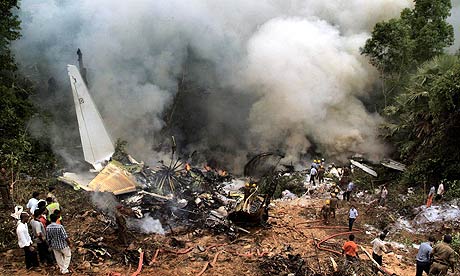 Up to 159 people killed in southern India after plane overshoots runway and crashes in gorge
Nearly 160 people were killed today when a plane overshot an airport runway and plunged into a gorge in southern
India
.
Of the 166 people on board the Air India airliner, 159 died when it appeared to skid off the hilltop runway at Bajpe airport in Mangalore in heavy rain.
Seven people survived the crash, which happened at 6.30am, and were being treated in nearby hospitals, according to local officials.
One survivor, Pradeep G Kotian, 28, said: "As soon as the plane touched the runway, it started vibrating and before we could realise what was happening, we heard a loud sound and the plane broke into two pieces. Then there was smoke and fire on the plane.
"Nobody could do anything. Luckily, I saw the opening where the plane had split into two, and I jumped out of it. I could see three others who had also jumped out from the same opening".
Kotain, who injured his hand and suffered burns to his feet, told CNN-IBN TV that the fire on the plane was small at first, but an explosion sparked a bigger blaze.
Another survivor, 47-year-old Krishnan K, said: "It happened all of a sudden and I considered myself really lucky to have survived this crash. I thank God for my survival".
Mayan Kutty, 48, who escaped the crash, said: "I consider myself really lucky. As soon as I jumped out of the plane, I spoke to my wife thinking she might be worried. But she was shocked to hear the news".
The Boeing 737-800, carrying 160 passengers and six crew members, crashed during heavy rains that also hampered the rescue effort. It is believed that cloudy conditions and reduced visibility may have contributed to the incident.
The crash is believed to be the worst in India since the November 1996 mid-air collision between a Saudi airliner and a Kazakh cargo plane near New Delhi that killed 349 people. Link