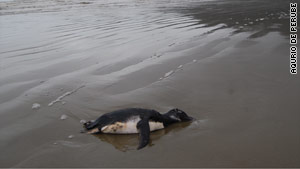 (CNN)
-- Biologists suspect that unusually cold waters off the coast of Brazil were responsible for the deaths of more than 550 penguins that washed up on shore in the past 10 days.
Since July 11, about 556 dead penguins have appeared on beaches, Thiago do Nascimento, a biologist at the Peruibe Aquarium, told CNN.
At the beach of Praia Grande alone, on the Sao Paulo coast, more than 170 penguins have washed up on shore since Friday, according to the local government.
It is not unusual for penguins to show up on the Brazilian coast during their migration, but most of the time, they are alive, said another biologist, Isabelle Nunes.
Necropsies performed on many of the penguins show that they had no food in their stomachs and probably starved to death, Nascimento said, adding that cold weather probably contributed to their deaths.
Nunes said it is possible that the cold waters, brought on by a regional cold front, made the fish that the penguins eat seek other waters.