Worishofers are the latest, but from Dr Scholl's to Crocs, there is always an ugly shoe that becomes trendy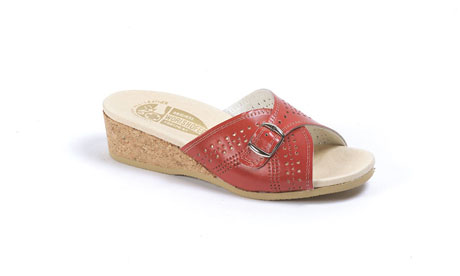 Shoe trends are predictable in their randomness. While the general tide of footwear
fashion
flows in one direction, there will always be one rebel shoe that heroically bucks the trend. It can be hard to predict what the style will be, but the unwritten rule is that it must be defiantly ugly and practical.
Right now, the Worishofer is that shoe. An orthopaedic demi-wedge with a cork sole born 70 years ago in the Bavarian spa town of Bad Wörishofen, it is currently enjoying popularity in the trendier enclaves of downtown Manhattan.
In accordance with rebel-shoe law, the Worishofer is fairly cheap at £55, and is designed with comfort rather than style as its raison d'etre. It quickly gained cult status far from the catwalk after being spotted on the feet of smugly left-of-centre dressers such as Maggie Gyllenhaal and Kirsten Dunst.
This ugly shoe is in good company. Back when Kate Moss rather than Kerry Katona was the woman you immediately associated with Uggs, sheepskin boots enjoyed a period of cult status. Dr Scholl's wooden-soled orthopaedic shoes enjoyed their heyday in the 70s and are periodically revived by cool kids such as Chloe Sevigny who want to stretch the ugly-shoe point too far by wearing them with what look like white DVT-preventative socks. Similarly, Birkenstock sandals made the unexpected leap from German campsite to Glastonbury VIP area in 2003. Crocs, meanwhile, are the ultimate so-ugly-it-hurts shoes. Their popularity qualifies them as shoe rebels, even if their looks really should confine them to the feet of the under-eights.