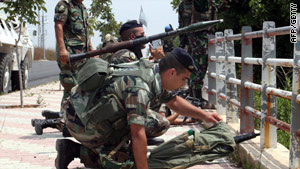 Beirut, Lebanon (CNN)
-- A clash between Lebanon and Israel along their volatile shared border Tuesday left an Israeli officer and several Lebanese soldiers dead while escalating fears of renewed violence between the nations.
Lt. Col. Dov Harari, a battalion commander, was killed in the fighting, according to an Israel Defense Forces statement. Another Israeli soldier was seriously wounded, it said.
A Lebanese army spokesman said at least two Lebanese soldiers were killed and several others were wounded.
Lebanon's official National News Agency reported that journalist Assaf Abu Rahal also was killed in the exchange of fire between Lebanese and Israeli soldiers.
Two separate narratives emerged about the incident.
Israel said the Lebanese fired on Israeli soldiers who were on the Israeli side of the border.
In Jerusalem, Israeli Intelligence Minister Dan Meridor said the incident was captured on video and that it all occurred on Israeli soil.