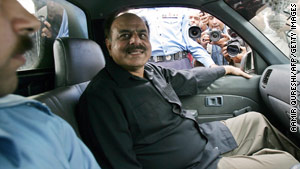 Islamabad, Pakistan (CNN)
-- The U.S.-led war in Afghanistan is a "lost cause," said a former Pakistani intelligence chief, and the United States needs to negotiate peace with Taliban leader Mullah Omar. "You have to talk to him, and I'm sure it will work out very well," Lt. Gen. Hamid Gul told CNN's Fareed Zakaria.
Gul was mentioned many times in U.S. intelligence documents that were published last week by WikiLeaks and implicate Pakistani intelligence as supporting the Taliban. Gul has repeatedly denied the allegations. "I'm quite a convenient scapegoat," he said.
Gul, a career military officer, called the U.S. occupation of Afghanistan "wrongful" and "unjust" and said he sees legitimacy in the Afghan insurgency. "This is a national resistance movement. It should be recognized as such," he said.
CNN