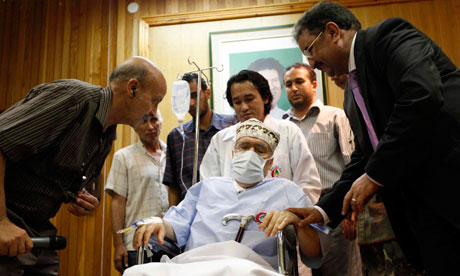 The doctor at the centre of the increasingly bitter international debate over the early release of the Lockerbie bomber has spoken to the
Observer
in his first interview since his expert evidence was used to justify the decision.
Talking ahead of Friday's first anniversary of the release of Abdelbaset al-Megrahi, Professor Karol Sikora strongly attacked the way his prognosis was portrayed. The leading cancer specialist said he would have made his evidence "more vague" if he could have foreseen that it was going to be interpreted as a fact that the convicted terrorist was going to die within three months of being released from Scotland's Greenock prison.
Sikora's claims are likely to reignite the row over the grounds on which al-Megrahi was released. As one of three doctors paid by the Libyan government to provide an expert opinion on al-Megrahi's life chances after he was diagnosed with prostate cancer, Sikora has been attacked for his role in the affair.
Claims by US senators that the release was orchestrated by BP, who wanted to win drilling concessions in
Libya
, have provoked a bitter international row.
Two of the physicians paid by the Libyans – Sikora, and Professor Ibrahim Sharif, a Libyan oncologist – agreed al-Megrahi's death was "likely" within three months. The third, Professor Jonathan Waxman, conceded that al-Megrahi did not have long to live.
Sikora denied that he succumbed to pressure from Libya to agree al-Megrahi had under three months to live so that he could be returned to Libya on compassionate grounds. "I felt, on the balance of probability, you could justify that [claim], but you couldn't say he was definitely going to be dead in three months," he said.
"It's not like in the films when the oncologist says 'I'm sorry you have three months to live'. There's a huge spectrum for every clinical situation. When I was asked 'Is he likely to die in three months?', my opinion was that he was. If you look at the survival curve, there's about a 60% chance of someone being dead in three months, but that doesn't mean he will die in three months. The legal side has to have it one way or another; it [the prognosis] can't be mousey. If I did it again, I'd really test the grounds for compassionate release. This three months [rule] – is it based on the balance of probability or more than that? Is it beyond reasonable doubt?" Sikora said it was not the job of doctors to deal in certainty, but to make politicians and lawyers aware of the spectrum of potential outcomes when asked to assess how long a terminally ill patient had to live: "If I could go back in time I would have probably been more vague and tried to emphasise the statistical chances and not hard fact".
He agreed that the al-Megrahi affair had, as with the MMR and swine flu scares, highlighted how there could be explosive reactions when science, politics, media and law collided.
The Guardian