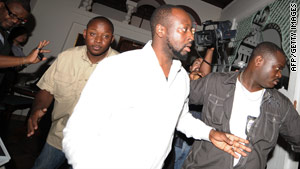 (CNN)
-- Hip-hop singer Wyclef Jean said Sunday he will contest a pronouncement from Haitian election officials ruling him ineligible to run for president of Haiti.
"After careful consideration and much soul-searching, I have made the decision to contest Haiti's board of elections' pronouncement stating that I am ineligible to run for the presidency of the country," Jean said in a statement. "I will be seeking a solution through legal channels, and I urge my countrymen to be patient through this process".
Jean's name was not on the list of 19 approved candidates released Friday night by Haiti's Provisional Electoral Council. At the time, Jean said, "I respectfully accept the committee's final decision, and I urge my supporters to do the same".
He was among 15 prospective candidates rejected. Elections officials did not provide a reason to reporters, but Jean's statement said they had ruled he was not a resident of the country.
Jean said Sunday that in the 36 hours following the decision, "I have been in constant conversation with my family, friends and advisers, and reading the comments of good people and supporters throughout the Haitian diaspora." He said he has also been closely monitoring "the situation on the ground, which I am happy to report has remained peaceful and thoughtful".
CNN