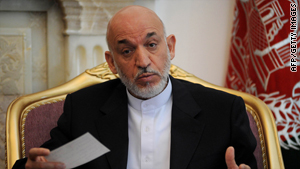 Kabul, Afghanistan (CNN)
-- Afghan President Hamid Karzai announced the creation of a high peace council as part of the reconciliation effort to reintegrate some Taliban militants, a spokesman for his office said on Saturday.
Syamak Herawi, the spokesman, said the council will be very effective in bringing peace and stability in the country. The list of council members will be announced early next week.
Earlier this week, Gen. David Petraeus, the top U.S. military man in Afghanistan, said initial approaches to some Taliban members as part of a reconciliation initiative have shown promise and could help in the effort to resolve the conflict there.
Petraeus, who heads the U.S. and NATO-led forces in Afghanistan, spoke to reporters after greeting U.S. Defense Secretary Robert Gates, who arrived in the war-torn country Thursday to consult with political and military officials.
Petraeus said there have already been approaches toward Taliban officials at senior levels that hold some promise. This comes amid discussions about reaching out to some Taliban members as part of a reconciliation process, but the military isn't envisioning peace talks with hard-liners.