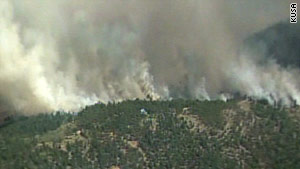 (CNN)
-- High winds helped fuel fast-moving wildfires in Colorado and Oklahoma on Monday, prompting evacuations in both states, officials said.
At least one home was destroyed in the 300-acre blaze in Woodward County, Oklahoma. Emergency officials have been responding to as many as five wildfires in the area since Sunday evening, when 40-mph winds began whipping through the region, said Matt Lehenbauer, director of emergency management for the county.
At least one firefighter suffered heat exhaustion, Lehenbauer said. No other injuries were reported.
The fire, near Fort Supply Lake in northwestern Oklahoma, began at 10 a.m. and was 90 percent contained Monday afternoon, Lehenbauer said.
Authorities believe embers from a campfire sparked the blaze. About 30 homes and 120 campsites were evacuated. Firefighters were also working a 1,200-acre blaze on the east side of the county, believed to be started by arcing utility lines, Lehenbauer said.