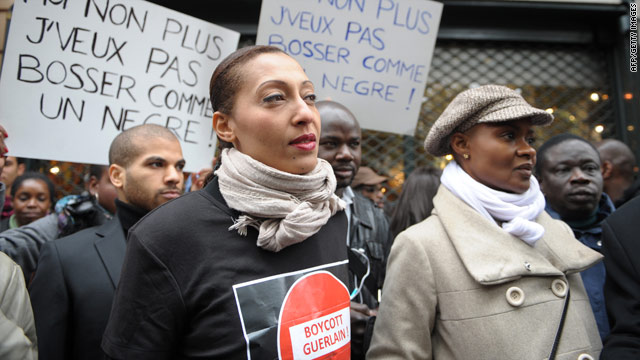 Paris, France (CNN)
-- Dozens of protesters wearing black crowded the sidewalk Saturday outside the Guerlain boutique in Paris, France, calling for a boycott of the cosmetics company following racist remarks made by a former executive on French TV this month.
Jean-Paul Guerlain -- who is no longer connected with the company that bears his name -- uttered a racial slur twice during an October 15 interview on France 2 about his career and the making of the Samsara perfume.
Guerlain has apologized for the comments, saying, "My words do not reflect in any way my profound thoughts but are due to an inopportune misspeaking which I vividly regret".
The racial epithet was used as he was describing how he was inspired to create the perfume while trying to impress a woman.
"One day I told her -- and I still called her Madame -- 'What would seduce you if one was to make a perfume for you?' and she told me, 'I love jasmine, rose and sandalwood,' " Guerlain recalled. "And for once I started working like a [racial epithet]. I don't know if [racial epithet] ever worked that hard," he said.
Saturday's protest was mobilized by a Facebook group called Boycott Guerlain, which called on protesters to don black and gather outside the boutique on Paris' famed Champs-Elysee.