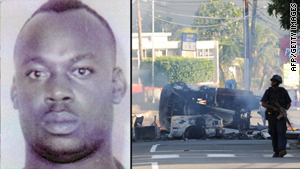 By
Eliott C. McLaughlin
, CNN
(CNN)
-- Christopher "Dudus" Coke, who controls the impoverished West Kingston enclaves now blockaded by gang members, is likened by experts to both Robin Hood and Pablo Escobar.
But comparisons to the hero of Sherwood Forest and the one-time Colombian kingpin are not mutually exclusive.
Coke, 41, rules via a combination of violence, corruption and philanthropy, experts say, and the unrest in the Jamaican capital this week is a result of competing interests: those who want him handed over for drug crimes versus those who consider him a benefactor.
"He lives in a poor area, and because of his sale of cocaine, he basically plays the Robin Hood role," said Jamaican-born attorney David Rowe, a University of Miami adjunct professor with expertise in Jamaican extraditions.
Jamaicans, many of whom live in abject poverty in Kingston, are reluctant to help the government extradite Coke to the United States, experts say.
"They don't know, if he's extradited, who will be there for them. There are mothers wondering, 'Who's going to buy my child lunch?' or 'If I get sick, who's going to pay my hospital bills?' " Rowe explained.
Coke and his gang hand out sandwiches in the streets, send children to school, build medical and community centers -- "all the things to ingratiate himself that
Pablo Escobar
used to do in Colombia," said Larry Birns, director of the Council on Hemispheric Affairs, a think tank specializing in U.S. policies in Latin America. Link