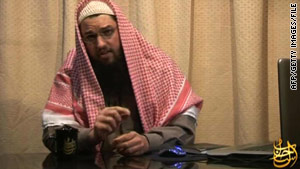 (CNN)
-- The governments of Afghanistan and Pakistan serve only the interests of the United States and its allies and not of the local Muslim populations, an American-born al Qaeda spokesman said in a new video purportedly from the organization.
The spokesman, Adam Gadahn, expressed condolences on behalf of al Qaeda for the loss of life in the devastating floods that hit Pakistan recently. Millions of Muslims spent Ramadan without a home because of the floods and the war, he said.
"Some of them are refugees because of the devastating floods resulting from the extraordinarily heavy monsoon rains, while others are refugees from the military operations launched by the crusader army and its helpers and proxies throughout the region," Gadahn said.
CNN could not independently verify the authenticity of the 7-minute video, posted on websites known to carry such messages in the past. In it, Gadahn speaks in English; the video features Arabic subtitles.
Citizens of Afghanistan and Pakistan must change the way their countries are governed, he said.