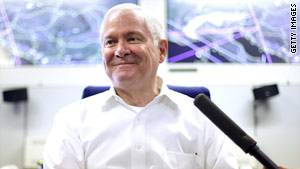 Washington (CNN)
-- Defense Secretary Robert Gates has raised the level at which gay and lesbian troops can be discharged under the "don't ask, don't tell" policy, ordering that it only be done by the secretaries of the Army, Navy and Air Force, a senior Defense Department attorney said Thursday.
In addition, the senior defense attorney hinted that the Pentagon is preparing for the possibility that the policy banning openly homosexual soldiers could change through the U.S. courts.
"We are planning for multiple scenarios," said the attorney, who spoke on condition of not being identified by name.
The move comes a day after a federal appeals panel temporarily stopped a lower court injunction that prohibited the military from enforcing "don't ask, don't tell." The appellate panel indicated it would fully consider the case as soon as next week, but it was unclear when the legal proceedings involving a court challenge to the policy would be completed.
In a memo written to the heads of all the military services, Gates said his action was taken in direct response to the legal uncertainty that currently exists surrounding "don't ask, don't tell" law and policy, including last week's injunction and the subsequent temporary stay Wednesday by the 9th Circuit panel.
"Effective immediately and until further notice, no military member shall be separated ... without the personal approval of the secretary of the military department concerned, in coordination with the under secretary of Defense for personnel and readiness and the general counsel of the Defense Department. These functions may not be delegated," Gates wrote.