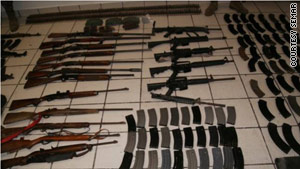 (CNN)
-- Mario Santos likely never made it to the United States.
The 18-year-old set out 10 years ago from his native El Salvador in search of opportunity and a better way of life. But he had to travel north through Mexico first.
A short while after leaving, he called his parents to tell them he had been beaten and robbed in Mexico, left penniless and without shoes or clothes. It was the last they heard from him.
It's a fate that likely befell 72 people believed to be migrants from Central and South America whose bodies were found this week in a ranch in northern Mexico, just 90 miles from the U.S. border. It's a fate that officials say also befalls thousands of Central and South Americans every year.
"It's brutal," says Peter Hakim, president emeritus of the Inter-American Dialogue, a non-partisan Washington policy institute. "This is very big business. It's very brutal".
It is indeed big business. Human trafficking is one of the most lucrative forms of crime worldwide after drug and arms trafficking, the United Nations Office on Drugs and Crime said in April.
In Mexico, it is a $15 billion- to $20 billion-a-year endeavor, second only to drug trafficking, said Samuel Logan, founding director of Southern Pulse, an online information network focused on Latin America.
"And that may be a conservative estimate," Logan said.
That money, which used to go mostly to smugglers, now also flows into the hands of drug cartel members.
The Center for Strategic and International Studies, a bipartisan, nonprofit policy institute based in Washington, noted in an August report that human smuggling and other illegal activities are playing an increasingly important role as narcotraffickers diversify their activities.
"The drug cartels have not confined themselves to selling narcotics," the report said. "They engage in kidnapping for ransom, extortion, human smuggling and other crimes to augment their incomes".
Some cartels have come to rely more in recent years on human smuggling.
CNN